The Quad Arches are the new visual identities of the seven QuadEX Quads at Duke University.
Click on the tabs below to view your Quad's Arch and an explanation of its Ten Elements!
BACKGROUND
FEW
CRAVEN
KILGO
CROWELL
WANNAMAKER
KEOHANE
EDENS
BACKGROUND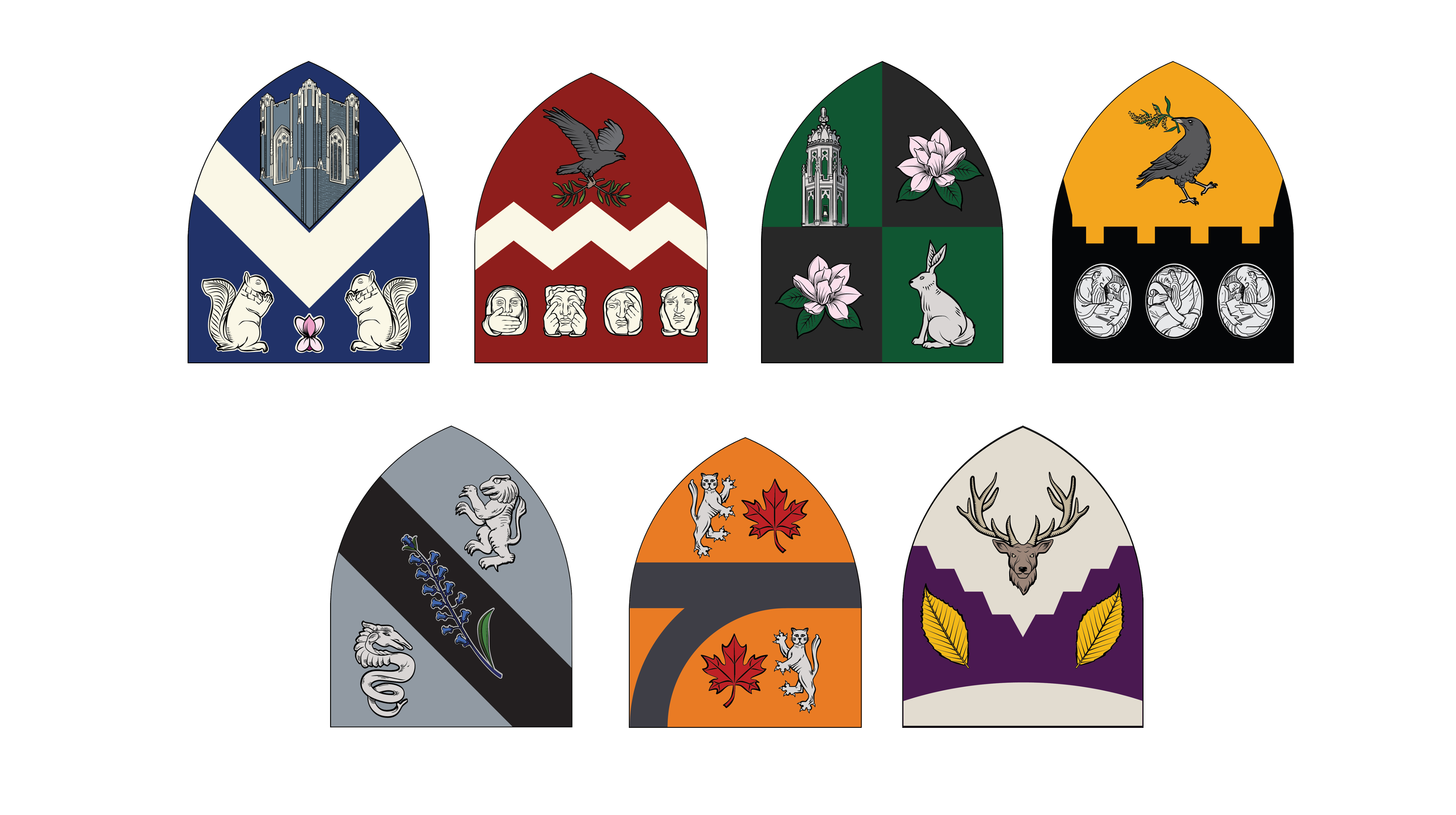 THE QUAD ARCHES are the new visual identities of the seven QuadEX Quads at Duke. More than simply logos, the Arches serve to create a distinct sense of place and belonging for all students who live in the Quads, past, present, and future. They do this by referencing the natural and built environment of the Quads, including local flora and fauna and architectural features unique to each building. Each Quad Arch contains ten elements: a principal color, a supporting color, an arbor (tree species), foliage (ornamental floral or leaf element), fauna (the Quad's animal), an architectural feature unique to the Quad, a significant date, significant numbers, a motto (based on the formula of Duke University's "Eruditio et Religio"), and a partition that divides the shape of the Arch. 
  What style are they designed in, and why? The Arches are related to heraldry, the vernacular visual language of many colleges and universities around the world, including Duke. Referencing this same style connects students to the experience of living on Julian Abele's collegiate gothic West Campus.  Inverting the shield found at the heart of traditional heraldry creates a gothic arch, an immediately recognizable symbol for all who set foot on Duke's campus.  While the traditional shape of the shield references battle settings and bloodlines, the Arches symbolize journey and transformation, central characteristics of the Duke undergraduate experience.
  Why are there so many elements? There will always be a broad diversity of Duke students who live in the Quads, and the Arches will have many different options of elements with which to identify. You may like one and not care for another, but by having many we can create the opportunity to include everyone.  
  Who designed them? A team of students, staff, and an artist worked together from August 2022 to April 2023 to build the framework, make the choices, collect community feedback, and execute the designs. 
  Who gets to use the Arches? Everyone affiliated with a Quad! That includes first years in a linked House, upper-class students in the Quads, alumni affiliates, and more. The Arches will represent the Quads in official university functions, in informal community events, and, of course, on Quad merchandise. 
FEW
CRAVEN
KILGO
CROWELL
WANNAMAKER
KEOHANE
EDENS